The 1956 J.M. Cadet Band plays "On The Mall." MUSIC OFF-ON
MEGA-REUNION II WAS HELD ON AUGUST 2, 2014. THIS WAS A GATHERING OF ALL WHO ATTENDED THE "OLD SCHOOL".
To View Photos of Mega-Reunion 2, Go HERE.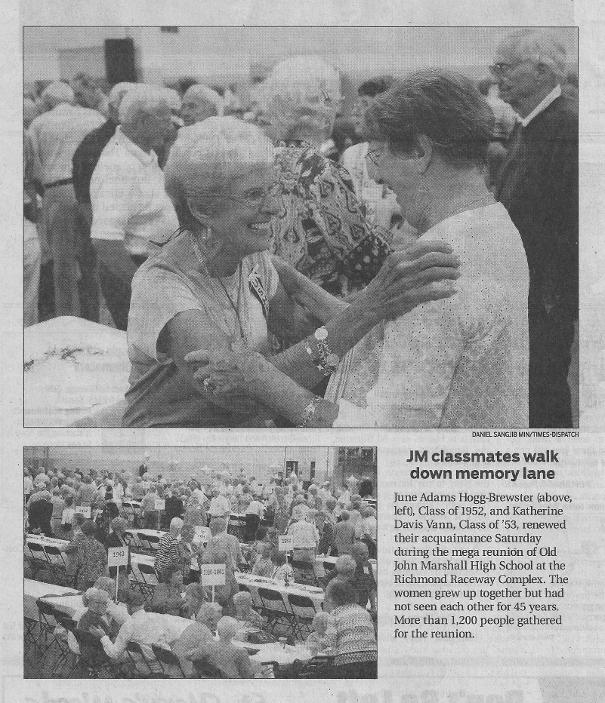 The 2014 JMHS Mega-Reunion II
They came from near, they came from far: to "The John Marshall High School
Mega Reunion," at RIR.
There were over a thousand Alumni, who came to share
Precious memories of a high school, that was once there.
From 98 years old to 65, Man oh Man! Did they come alive!
Some in wheel chairs, some on walkers and canes;
With a youthful sparkle in their eyes, they forgot about the pain.
They sang the old fight songs, ate a good meal; they hugged and reminisced.
Some even recalled their very first kiss.
Fellowship and Love, Yes that old high school spirit, was certainly still there.
Those very special memories; they were all willing to share.
When "The Jayem Alumni Band" proudly marched in; we felt we were
Standing on the corner of 8th. and Marshall St. watching them go by, once again.
We did the patriotic things, that we should ever do;
We prayed to Almighty God and pledged allegiance, to the Red, White and Blue.
We saluted our service men and women, one and all;
We paid homage to those, who had answered God's call.
We humbly thank all of those, for the hard work they have done.
"The 2014 Mega Reunion", was a great success;
It was truly awesome and we all had fun.
"What Memories"
By James D. Taylor [Band '51]
The OLD JAYEM MEGA-REUNION II was held at the Richmond Raceway Complex - Exhibition Hall on August 2, 2014 from Noon to 6 PM. This was another fantastic event attended by 1200 former classmates and friends, held to celebrate friendships and memories of Old John Marshall High School, once located at 8th and Marshall St. in Downtown Richmond from 1909 through 1960. The first MEGA-REUNION was held in August of 2012 and was attended by 1600.
For Individual Class Reunions, Click on the Class Reunions Link or go HERE.
Currently Listed Is The Class of 1955!
For Cadet Alumni Events, Click on the Cadet Alumni Events Link or go HERE.
To read "The Monocle" online , go HERE.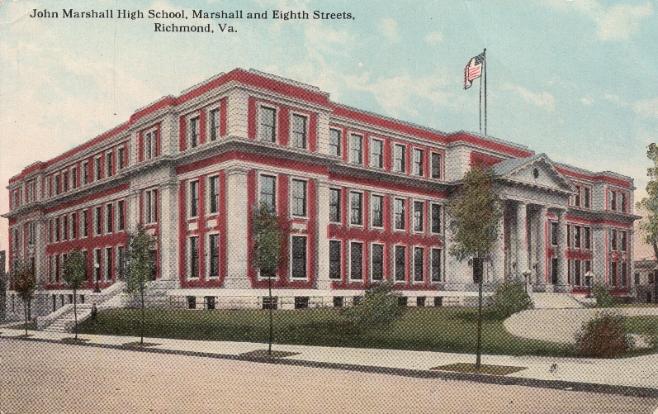 The old John Marshall High School was built in 1909 and was closed in 1960. (Demolished in 1961). Once located at 8th and Marshall St. in Richmond, Virginia.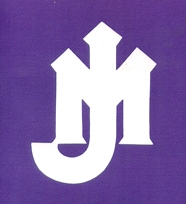 Please visit the remaining Web Pages!